Educational Institution Air Duct Cleaning
Schools often overlook maintenance and cleaning of air duct and HVAC systems during the busy schedules of maintenance and building support. At ServiceMaster Clean by Jouny, we provide the most powerful truck mounted cleaning systems in the industry to provide your building with the power needed to clean large vents and complicated HVAC systems.
Cleaning the air ducts will provide cleaner air throughout your closed building and has been shown to remove particulate matter in the air which can lead to increased asthma and allergy attacks associated with dust and allergens circulated through your heating and air conditioning system. Improved breathing can increase student health, focus, and concentration. Call us today to have our technicians visit your facility and provide you with a detailed price quote.
Why ServiceMaster Clean for your Air Ducts?
According to the U.S. Department of Energy, 25-40% of the energy used for heating or cooling is wasted.

Indoor air pollutants require an HVAC system to work harder to heat and cool a facility.

Pollutants are pulled into the HVAC system and re-circulated an average of 5 to 7 times per day. Over time, this recirculation causes a build-up of pollutants in the duct work.

Removing these pollutants allows the HVAC system to work more efficiently and results in energy savings.*

Indoor air pollutants can also cause serious health problems for employees who have respiratory conditions, autoimmune disorders or environmental allergies.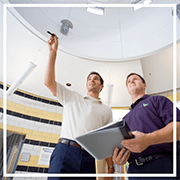 Our Cleaning Process
Our powerful vacuum system will first be connected to the air duct near the furnace.

Commercial grade products and equipment will then be used to dislodge the contaminants and debris in the air ducts.

The powerful vacuum will then pull the contaminants out of the ducts and through the filtration system, returning clean air back into the facility.

Once the system is cleaned, all access holes are resealed, returning the duct system to a like new, clean condition.
Benefits of Air Duct Cleaning
reduced potential for mold growth
extended HVAC equipment life
a healthier environment for allergy sufferers
removal of unpleasant odors
How long will my cleaning take?
Cleaning times are dependent upon several factors; size of the facility, number of return ventilations surfaces, and the square footage of the ductwork are all factors that make each cleaning unique. Our technicians will work efficiently to ensure not only that your cleaning is done quickly, but more importantly effectively.
Will this disrupt school function?
We recommend cleaning during off school hours and can even arrange to perform cleanings during school holiday breaks to ensure thoroughness of the cleaning and limited disruption to students.
Can you clean roof mounted HVAC systems?
Absolutely! We specialize in handling large building facilitiues with the most sophisticated and powerful suction syastems to remove allergens, dust, pollen and contaminants from your entire building by sectioning off the buiulding and visualing inspecting the cleaning.