Residential Rug Cleaning
There many ways in which you can add beautiful finishing touches to your home, and this includes the addition of accessories such as rugs. These can add warmth, color, texture and great style to your property and can be used in a range of different rooms such as the bedroom, the living room or the dining area. There are many different types of rugs to choose from including modern, contemporary rugs and more traditional rugs such as Oriental ones. The cost of your Oriental rug will depend on a number of factors including where you purchase it from and the quality of the rug that you buy. It is well worth investing money in a high quality rug, as this means that you will have one that not only offers aesthetic benefits but is also designed to last. Area rugs can make your space more inviting and more relaxing. There's nothing more inviting to a family members and pets alike.
Why ServiceMaster Clean for your Rug Cleaning?
Rugs are more delicate and intricate than carpet, requiring special handling and techniques to clean
ServiceMaster Clean provides the industry's best tools and systems for cleaning rugs from the fringe to the backing.
Depending on the age and lineage of the rug, water can actually damage the rug if administered improperly.
ServiceMaster provides pickup and drop off service of your business's rugs to ensure that the cleaning process is completed thoroughly at our facilities.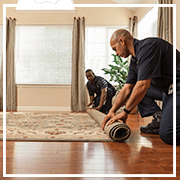 Our Professional Rug Cleaning Process
Our ServiceMaster Clean rug cleaning begins with pick up of the rug and careful handling to return it to our facility for inspection.
Inspection identifies any fraying, thread damage, staining, discoloration, or wear to be repaired.
Our special low pressure washing system is used to dislodge surface dirt and debris from the rug.
The rug is again laid out for inspection and then placed in a centrifuge to remove any deeper dirt and loose material from the surface.
The rug is moved to a temperature controlled drying area for drying and final inspection.
The rug is returned to your business for many more years of enjoyment.
Benefits of Professional Rug Cleaning
Over time the cycle of pet napping and wear can take its toll on your rug's fibers, resulting in rugs looking dingy and maybe not smelling their best. Over time even the highest quality rugs can start to look worn and tired as well as gather dirt and debris in the fibers, which is why you should also consider periodically using an oriental rug cleaner.
By the time your rug looks dirty, it can actually hold 8 to 9 pounds of dirt. Bacteria, germs and other nasty contaminants can become deeply embedded in your favorite rug. Unpleasant odors can build up, and they're often the result of mold or mildew buildup that's been in place for years.
ServiceMaster Clean rug service can bring your rugs back to their original vibrance using our new safe tumble and water extraction equipment. For your convenience we provide pick up and delivery service, or drop-off service at our Dearborn Heights, MI location.
Here we ensure controlled cleaning and drying of your rug for a gentle and thorough cleaning of the fibers without the saturation or steaming process. Call our experts today to see how we can bring new life to your beautiful rug.
How long will my rug cleaning take?
Cleaning times are dependent upon several factors; soil level, traffic on the rug affected, stain removal processes, rug thickness, antiquity and the size of the rug are all factors that make each cleaning unique. Our technicians will work efficiently to ensure not only that your cleaning is done quickly, but more importantly effectively.
What kinds of rugs do you clean?
Our equipment and process are specific to several types of rugs. We clean:
Afghan rug
Persian Rugs
Pakistani
Egyptian
Wool
Hand-woven
And more