Residential Hardwood Floor Cleaning
When time and use dull your floors, we help return the glow. Beautiful hardwood floors can be one of the most impressive features of your home. However, everyday wear and tear that can occur from pets, spills, traffic, high heel shoes and furniture can gradually dull the appearance of your wood floors.
Why ServiceMaster Clean for your Hardwood Floors?
We use environmentally friendly, commercial grade products and equipment to create supreme durability and successfully eliminate dirt, dust, oil and other contaminants that can damage wood floors.
Water-based finishes and sealers safeguard your wood flooring investment, offer faster dry times and have less harmful fumes than oil-based finishes thanks to their low volatile organic compounds (VOC) levels.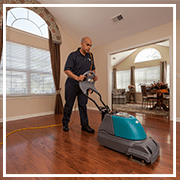 Our WoodGlo Cleaning Process
WoodGlo Level 1
Brightens the appearance of your floors by adding a finishing coat using WoodGlo Renewer.
Professional cleaning is recommended every 6 to 12 months to keep your wood floors looking their best, depending on traffic and severity of damage.
WoodGlo Level 2
Restores a bright, glossy sheen to floors by adding a thicker finishing coat using StreetShoe®.
Helps conceal cracks, scratches and pet stains in the floors.
Produces enhanced protection from abuse and everyday wear and tear.
Extends the life of the floors.
Prolongs the need for professional cleaning up to 5x compared to Level 1, depending on traffic and severity of damage.
The benefits of our WoodGlo Cleaning System include:
Unbeatable clean and shine
Reduced wear on floor surfaces
Dust-free burnishing
Enhanced slip resistance
Fast dry times
Less yellowing
Low odor
Simplified maintenance
Restoring rather than Refinish Hardwood Floors
According to the experts on Realtor.com, real estate agents agree that homes with hardwood flooring enhances the chances of your home selling faster as  buyers often prefer hardwood over carpet. Hardwood floors in areas such as hallways, dining rooms, living rooms and kitchens can add value to a home and leave your family and friends with a warm, inviting feeling.
Although genuine wood flooring can be expensive, caring for it doesn't have to be. Restoring your floors may be a good option without breaking the bank on expensive sanding and refinishing. Having your hardwood floors professionally cleaned is a less costly alternative. We believe your hardwood floors can and should always look new. The key is to keep them in good shape before you have to go through the time, expense, and inconvenience of sanding and refinishing. Count on ServiceMaster Clean® by Jouny to keep your hardwood floors looking their best.