Residential Carpet Cleaning
No other item in your home absorbs more dirt and debris and can affect the appearance of your home like your carpets. Many carpets available today have been treated with a stain resistant coating. However, even carpets that have been treated are not completely stain proof. ServiceMaster Clean® by Jouny has spent years developing cleaning technologies and methods to remove even the toughest stains, such as wine, pet stains, coffee and ink.
When cleaning your carpet avoid quick fix or incomplete cleaning methods. With our experienced technicians and truck mounted equipment, we can assure that the correct pressure is used during cleaning to avoid damage to carpets and padding. Our cleaning process will brighten and restore your carpet and add years of enjoyment for you and your family.
Why ServiceMaster Clean for your Carpets?
Steam Cleaning provides longer life and durability to the fibers of your carpet.
Proper cleaning means the right pressure and the right amount of steam.
Professional equipment has the power and finesse needed to handle your specific carpet type.
Stain removal solvents and treatments must be properly administered to ensure stain removal down to the carpet backing.
Over saturation using rented or do-it-yourself methods can allow mold to develop in the padding.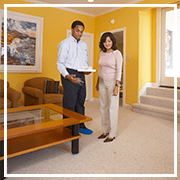 Our Cleaning Process
Our ServiceMaster Clean process begins with deep vacuuming to ensure all loose material is separated from the surface and upper layers of the carpet.

Hot water extraction is used to push cleaning solvents deep into the pile of the carpet and loosen particles of dirt and soil from the carpet fibers.

Finally our powerful truck mounted suction system is used to extract as much water, particulate matter and allergens as possible to ensure a deep clean.
Benefits of Steam Carpet Cleaning
Steam cleaning is quite thorough, so it takes much longer for your carpet to become dirty so you will go longer between cleanings than with do-it-yourself options.
Steam cleaning is less harmful to carpet fibers than harsh chemical cleaning methods.
Steam cleaning releases deep carpet soils and dirts that otherwise are unreachable using traditional methods.
Steam cleaning deep pile fibers in carpets can actually extend the life and vibrance of the carpet.
How long will my cleaning take?
Cleaning times are dependent upon several factors; soil level, traffic of carpet affected, stain removal processes, pile thickness, and area to be covered are all factors that make each cleaning unique. Our technicians will work efficiently to ensure not only that your cleaning is done quickly, but more importantly effectively.
Can you clean all stains?
While there are some stains which actually destroy or discolor carpet fibers beyond repair, the majority of stains can be removed if properly cleaned as soon as possible using the correct application of gentle solvents by a trained technician.
How long will it take for my carpet to dry?
Our Steam extraction process leaves very little water behind. Following cleaning, your floors may be walked upon right away. Total drying times vary with humidity and thickness of carpet but usually dry within a few hours of the cleaning.