Residential Green Cleaning Solutions
While all of ServiceMaster Clean's products are safe for your family and pets, some people want to go the extra step to ensure the safety of the environment as well. ServiceMaster proudly uses Green For™ product to provide a sustainable, ecologically friendly solution.
Our Green For™ products are designed to ensure that the most responsible method of cleaning is attained by using effective non-toxic alternative solutions for cleaning throughout your home. With this option requested during your cleaning appointment, you can rest assured that no harmful substances are making their way back into the ecosystem during your cleaning.
Why ServiceMaster Green For™?
Green products are quite close to the performance of traditional products with few exceptions.
Green products do not contain fragrances, a benefit for those with sensitivities to fragrances.
Green products ensure your that no harmful materials or residual chemical odors affect your home.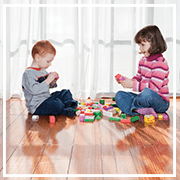 Green For™Products
Green For™ cleaning solutions provide our clients with an assurance that the cleaning supplies used are not harmful to the environment on disposal. These cleaning solutions allow for proper cleaning of difficult stains with minimal effect on the ecology of our fragile world. From tile cleaning to rug and carpet stain removal, these products provide excellent cleaning power without the harmful effects of more harsh chemicals.