Residential Upholstery Cleaning
Sofas and chairs in a home often see a lot of love and use, and thus show soil and dirt quickly. You may not be concerned about stains on your upholstery. But what about the dirt you can't see? Although not often visible to the naked eye, upholstery collects contaminants such as dead skin cells, oils and dust that can only be removed through a thorough professional cleaning. ServiceMaster Clean® by Jouny professionals are experts at selecting the correct cleaning system for various fabric types and soil conditions. When cleaning upholstery, our technicians use specially designed products, equipment and methods to achieve the best results.
Why ServiceMaster Clean for your Upholstery Cleaning?
Is safe for all kinds of upholstery and fabrics
Is non-toxic to family and pets
Removes stains and spots already present
Reduces the effects of wear on furniture
Helps extend the life of upholstery
Helps eliminate persistent odors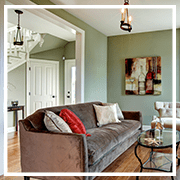 Do-it-yourself isn't always best
Upholstered items come in a variety of fabrics, textures and blends. It can be difficult for the average homeowner to know the right cleaning method for them. And cleaning upholstery incorrectly can cause shrinkage, color bleeding or discoloration. Our upholstery experts eliminate the guesswork and help homeowners avoid damaging upholstery. We select the best cleaning method for your upholstery and its condition, utilizing equipment created to remove the most soil possible. Furniture is an investment that can last for years, so skip doing it yourself and call ServiceMaster Clean®.
A name you can trust
ServiceMaster Clean® has been providing an unparalleled level of clean for more than 60 years. Our research and development team works to ensure that we are using state-of-the-art products and processes to improve the appearance of your upholstery. We guarantee the job is done right.
What kind of stains can be removed from sofa and love seat surfaces?
Lipstick, wine and grease are no match for ServiceMaster's upholstery cleaning team. Whether your upholstery has dulled over time or it's just plain dirty, our upholstery cleaners can help improve its look and leave it fresh, clean and ready to use again.
How can I keep my furniture clean following a cleaning?
After getting your furniture cleaned, you can keep it clean with our furniture protectant. Factory applied protectant wears off with normal wear and tear in addition to cleanings. Spill proof and kid proof your furniture after you've had it cleaned with our DuPont or Teflon furniture protectors to keep the freshly cleaned look.
What kinds of living room furniture surfaces can you clean?
ServiceMaster Clean has solutions for cleaning all upholstery materials. We handle:
Leather

Velour

Patterned fabric

Suede

Microfiber

Velvet

and More.